Wholesale Barcelona Daybed Reproduction in Shenzhen China
The Barcelona series was originally designed for Spanish royalty in 1929 by Mies van der Rohe. The series can be found in thousands of homes. However, the Barcelona Daybed is different than the rest of the seats, ottomans, sofas and loveseats. It has a solid hardwood base frame, unlike the others, which are entirely made of steel and Italian aniline leather. The exciting mix of materials makes this daybed and included cushion a timeless addition to any foyer, living space or office.
As Mies van der Rohe once said, "God is in the details", then some divine force was truly at hand during the creation of the Barcelona Day Bed. Because, while the piece has the clean lines and structural simplicity we all expect from Modernist furniture, the tiniest details of the piece are what give the Day Bed its true beauty.
Important feature of this style barcelona daybed:
• Top grain leather, our genuine leather is totally different from low quality and cheap split leather that can cause skin allergy or color fading in few months.
• Hand welted and hand tufted individual panels of leather cut.
• Ash wood frame with protective, clear lacquer finish in any color.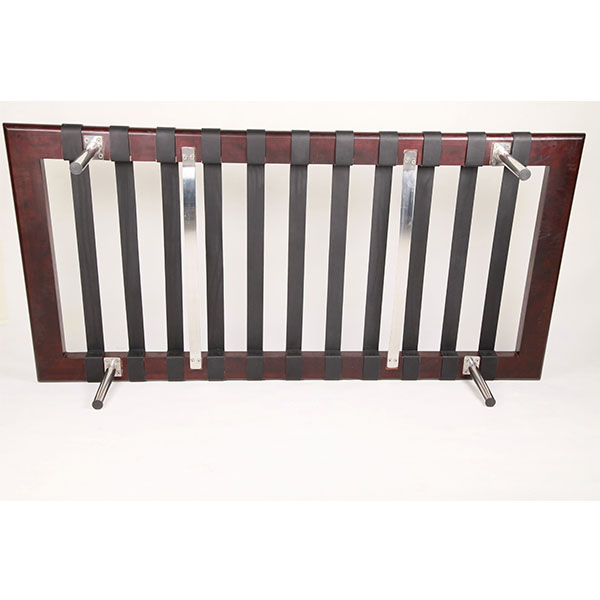 • Legs constructed of tubular steel with polished stainless steel finish, and this mirror-like stainless steel will not get rusted in recent few years.
• There are 50 hand-made Italy leather buttons on the mattress to make a muscle effect and comfort relaxing.
When you plan to purchase the barcelona daybed, some important aspects need to take into consideration. How about the materials, wholesale price, warranty, protection packing and the Marketing support of our furniture products?
Materials, Yadea furniture sells the replica barcelona daybed with top grain Italian aniline leather, stainless steel legs, Ash wood frame.
Wholesale price, Direct shipment to the places where you like to choose with very competitive price.
Warranty, We have replacement policy, any goods with quality problem can be replaced in next order.
Protection packing, Bubble bag used in inside packing for each piece, and cartons for out packing with paper corner protector for the full protection.
Marketing support, We can offer our customer the descriptions, features and high definiton pictures of our products then you can directly use them on your website, online shops.
Keywords in the article:
The Barcelona Daybed has a solid hardwood base frame, stainless steel legs and leather uphostery.
Information about ""