Product category
Barcelona Bench CF003
Hotline: 0086-13510313799
Tel:0086-755-82875007
Description:A modern classic, this Barcelona Bench style by Mies van der Rohe is fabulous for indoor and outdoor seting. Skillfully handcrafted in Argentina. Available in custom colors. Affordable pricing.
Items No: CF003
Product name: Barcelona Bench
Product Description:
---
1. Reproduction of the top famous classics design bench by Mies van der rohe.
2. The wooden lacquered frame is lacquired in light or dark walnut color.
3. Stainless steel tubular legs.
4. Coverings made of full top italian leather.
5. Covering on bottom of mattress made of top italian leather at 4 edges and cotton cloth in the middle.The color of cloth the same as leather. A zipper is sawed along the middle of one of the long edges so the foam can be moved out.
6. 6cm wide cowhide saddle leather.
7. Dimensions: 132 x 51 x 45 cm (WxDxH)
• Fast delivery.
• Warranty / Guarantee: warranty for 2 years from the date of purchase.
• Good Customer Service.
Yadea's focus on quality does not end at the factory door - they believe that providing clients with exceptional service is just as important as manufacturing furniture. In order to make certain Yadea clients enjoy consistently high quality in all Yadea products, they have set up their own test center which monitors products against criteria that are far more stringent than the statutory standards.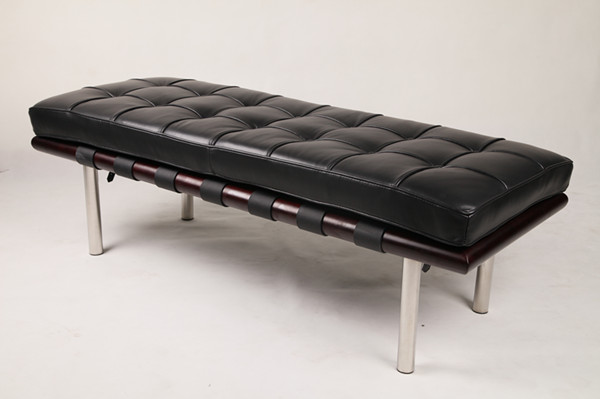 *

Indicated required field
Inquire: Barcelona Bench CF003
*

First Name:

Please fill in your First Name

*

Last Name:

Please fill in your Last Name

Company name:

Please fill in your company name

Telephone number:
Mobile phone number:

Please fill in your telephone number

*

E-mail:

*

Country:
Address:

*

Inquire intention description: