Product category
LC3 Le Corbusier armchair/loveseat/sofa CF302
Hotline: 0086-13510133516
Fax: +86-0755-82041709
Description:External frame made of highly polished stainless steel -Cushions are made of multi-density foam for firm support&plush comfort -Leather is hand-selected,expertly sewn and piped -Clean lines,straight and precise -Incredible quality,style and comfort at an reasonable price -1 seater,2 seater and 3seater size available
Items No.CF302
Product name: Le Corbusier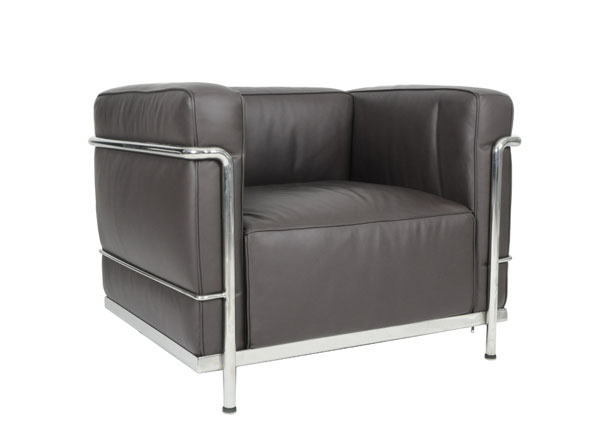 Le Corbusier Style Armchair. A quality, highly detailed reproduction of the original. We specialize in this series and understand fully the intricacies of the original design. From the supple Genuine Aniline leather to the plump generously filled and wrapped cushions, our full list of features means you don't have to settle for an inferior reproduction. You also don't have to pay more. With Yadea's signature reproduction, you can have your own version of the Le Corbusier LC3 Grande series. Compare this reproduction anywhere for its highest standard of exacting detail.

Our LC3 Le Corbusier armchair/loveseat/sofa Features:

- External frame made of highly polished stainless steel-Cushions are made of multi-density foam for firm support&plush comfort
- Leather is hand-selected,expertly sewn and piped
- Clean lines,straight and precise-Incredible quality,style and comfort at an reasonable price
- 1 seater,2 seater and 3 seater size available
- 100% genuine Full Grain Aniline Italian leather (not vinyl, leather match nor 100% Italian leather)
- All joints are fully welded, grind, sealed and sanded
- Full Grain Aniline Leather piping
- Adjustable leveling floor protecting foot-caps
- Multi-density, CA-117 compliant cushions wrapped in Dacron polyester batting
- #304 Stainless Steel lower frame with a 3 step hand mirror shine polish
- External wrap around tubing made of #304 Stainless steel. No chipping or rusting
- Reinforced bottom seat cushions for firm, long-lasting comfort
- Hardwood box frame construction

Description:
The Le Corbusier sofa set series was originally designed in 1928 for the Maison La Roche house in Paris. The design is the modernist response to the traditional club chair. The series comes in a smaller version referred to as the LC2 and a larger version known as the LC3 considered more appropriate for practical living purposes. Remarkably comfortable, Le Corbusier often referred to the pieces as "cushion baskets."

A striking feature of the LC3 is the externalized metal frame supporting the base, extending as the legs and running the entire length of the piece. Its not just the front of the LC3 that is attractive, the metal frame work means design detail from the sides and back allowing for easy placement even in the middle of a room. The Le Corbusier LC3 set is often used in a group of 2 chairs (1 seat version) and a single sofa or love (2 or 3 seat versions).
*

Indicated required field
Inquire: LC3 Le Corbusier armchair/loveseat/sofa CF302
*

First Name:

Please fill in your First Name

*

Last Name:

Please fill in your Last Name

Company name:

Please fill in your company name

Telephone number:
Mobile phone number:

Please fill in your telephone number

*

E-mail:

*

Country:
Address:

*

Inquire intention description:
The Le Corbusier Sofa LC2 was designed by Le Corbusier for a historical fine art exposition, the 1929 Salon d'Automne. The LC2 still resides in museums world wide and still graces the pages of magazines like Architectural Digest. Each cushion of Le Corbusier Sofa LC2 is flexible and covered with top Italian leather.Cushions covering in Italian leather, cushions for arm and back in full leather, front side in bottom and all other 5 sides for seat cushion in leather, Polished s
Our Jacobsen inspired Egg Chair is made (as the original) using a strong fiberglass inner shell which is padded and covered in a high quality aniline leather or woolen mix fabric.Available in many colors;Covering sewing by hand;Fiberglass molded to make sure nice curving;Swivel base in polished stainless steel;With tilting function;Ottoman for optional;Another matrial for egg chair is rattan.
The Knoll sofa is a classic furniture design that rooted in England in the 17th century. The Knoll sofa cushions are made of an Italian leather and the Knoll sofa legs are made of bright stainless steel. This form of Knoll soft furniture design features side arms and considerable depth of seating.Knoll Sofa covering in Italian leather, loose cushions, button also cover with leather. - Inner solid frame structure, high quality foam, UK fire retardant standard available - B
Related News