Product category
Egg Chair & Ottoman - Cashmere Wool
Hotline: 0086-13510133516
Fax: +86-13510133516
Description:Egg Chair - Cashmere Wool,Replic Egg Chair from China Factory,wlolesale egg chair,Arne Jacobsen - China Yadea Furniture. The original Egg chair(Cashmere Wool) is designed by Arne Jacobsen in 1958,and our replica Egg chair(Cashmere Wool) is ture the Fritz Hansen Egg Chair.welcome to our egg chair wholesalers.
---
Egg Chair- Cashmere Wool
Product Parameters:
---
| | |
| --- | --- |
| Item: CF026 | Dimensions(cm): 88(L)*76(W)*109(H) |
| Designer: Arne Jacobsen | Colors available: Red,Light Grey,Dark Grey,Orange,Blue,Black,White |
| Lead time: 15~25 days | Order Now: chinayadea@chinayadea.com |
Product Description:
---
1. The Cashmere Wool Egg Chair designed by Arne Jacobsen in 1958 for Radisson SAS hotel in Copenhagen. It is manufactured by Republic of Fritz Hansen;
2. Our Cashmere Wool Egg Chair is made (as the original) using a strong fiberglass inner shell which is padded and covered in a high quality Cashmere Wool;
3. Covering sewing by hand;
4. Fiberglass molded to make sure nice curving;
5. Swivel base in polished stainless steel;
6. Ottoman for optional;
7. High quality aluminum base in chip and flake resistant Satin Finish;
8. Four-Star aluminium base, with sturdy plastic pads to protect the floor from the scratching, highly polished with 360 degree swivel and tilting mechanism;
9. Constructed around a synthetic "dimension true" curvature shell;
10. Ottoman features an aluminum chip and flake resistant satin finish;
11. Smooth Contour cold pressed foam body wrap provides meticulous contour for this design;
12. More than 50 years after its design, the Egg Chair is still used in advertising, film and television as a symbol of sophisticated urbanism. Made in Denmark;
13. Cashmere Wool Egg Chair was designed in 1956 is perhaps the single-most recognizable icon of 20th century interior design. Our Egg chair reproductions are ideal for contemporary living or office spaces, and are crafted to the highest standards using soft cashmere wool.
Reference Pictures:
---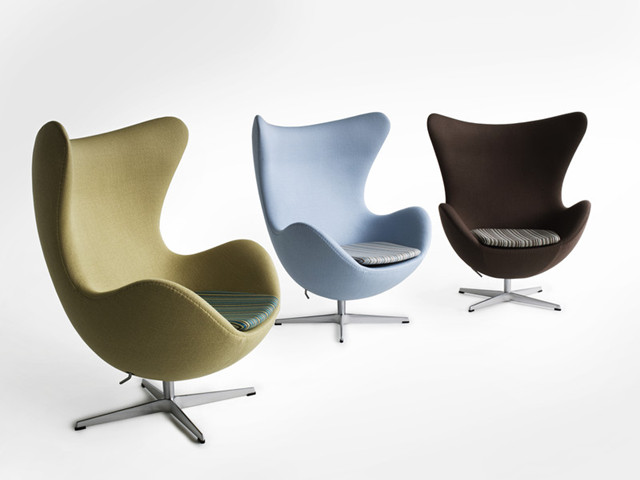 Product Pictures:
---
Designer:
---
ARNE JACOBSEN (1902-1971) was one of Denmark's most influential 20th century architects and designers. Both his buildings and products, like his Swan and Egg Chairs, combine modernist ideals with a Nordic love of naturalism.
As a designer, Jacobsen made prototypes for furniture, textiles, wallpaper, silverware etc. Among his most famous designs are The Ant, Series 7, The Egg and The Swan , and the tableware Cylinda-Line.
Today, Arne Jacobsen is remembered primarily for his furniture designs. However, he believed he was first and foremost an architect. According to Scott Poole, a professor at Virginia Tech, Arne Jacobsen never used the word 'designer', notoriously disliking it.
His way into product design came through his interest in Gesamtkunst and most of his designs which later became famous in their own right were created for architectural projects. Most of his furniture designs were the result of a cooperation with the furniture manufacturer with which he initiated a collaboration in 1934 while his lamps and light fixtures were developed with Louis Poulsen. In spite of his success with his chair at the Paris Exhibition in 1925, it was during the 1950s that his interest in furniture design peaked.
A major source of inspiration stemmed from the bent plywood designs of Charles and Ray Eames. He was also influenced by the Italian design historian Ernesto Rogers, who had proclaimed that the design of every element was equally important "from the spoon to the city" which harmonized well with his own ideals.
No. 7 chairs in the auditorium of the Ny Carlsberg Glyptotek in Copenhagen
In 1951, he created the Ant chair for an extension of the Novo pharmaceutical factory and, in 1955, came the Seven Series. Both matched modern needs perfectly, being light, compact and easily stackable. Two other successful chair designs, the Egg and the Swan, were created for the SAS Royal Hotel which he also designed in 1956.
Other designs were made for Stelton, a company founded by his foster son Peter Holmbl. These include the now classic Cylinda Line stainless steel cocktail kit and tableware.Other interior design is a line of faucets and accessories for bathroom and kitchen,created after he won a competition in 1961 for his design of the National Bank of Denmark. This classic design is still in production today by Danish company Vola.
*

Indicated required field
Inquire: Egg Chair & Ottoman - Cashmere Wool
*

First Name:

Please fill in your First Name

*

Last Name:

Please fill in your Last Name

Company name:

Please fill in your company name

Telephone number:
Mobile phone number:

Please fill in your telephone number

*

E-mail:

*

Country:
Address:

*

Inquire intention description: