FK 6720 armchair PC004-1
Hotline: 0086-13510313799
Fax: +86-0755-82875007-803
Description:Easy chair with stainless steel frame in brushed finish. The Easy chair was designed by Fabricius & Kastholm in 1968.
FK 6720 Armchair PC004-1
Product Parameters:
Item: PC004-1
Dimensions(cm):

83(L)*74(W)*80(H)

Designer: Fabricius & Kastholm
Colors available:

Black

Lead time: 15~25 days

Inquiry Now:

yadeaweb@gmail.com
Product Description:
---
1. FK 6720 armchair was originally designed by Fabricius & Kastholm in 1968.

2. The seat and back are supported by shaped curved wood.
3. Handrails with the original leather rope braiding
4. The frame is made of 304# stainless steel, 32*12mm thickness. solid stainless steel in brushed finish.
5. Loose cushions with full italian leather or aniline leather upholstery, and fillings are doll cotton and high flexible foam.
6. Leather colors available in black,white, red, light brown and dark brown.
7. Delivery time is about 20 days.
• Yadea's focus on quality does not end at the factory door - they believe that providing clients with exceptional service is just as important as manufacturing furniture. In order to make certain Yadea clients enjoy consistently high quality in all Yadea products, they have set up their own test center which monitors products against criteria that are far more stringent than the statutory standards.
Our Product Real Photos:
---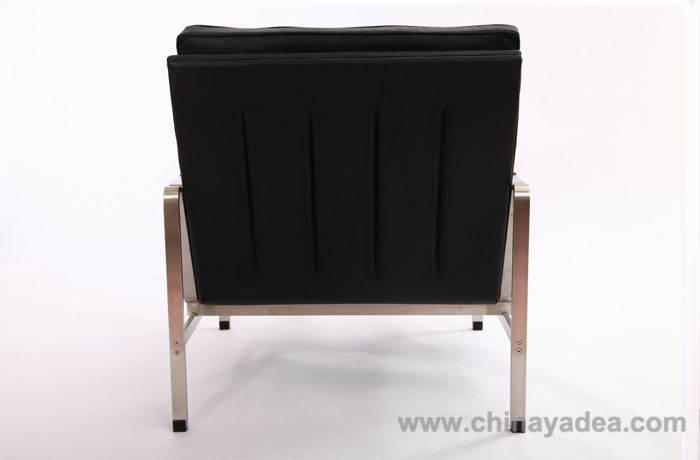 *

Indicated required field
Inquire: FK 6720 armchair PC004-1
*

First Name:

Please fill in your First Name

*

Last Name:

Please fill in your Last Name

Company name:

Please fill in your company name

Telephone number:
Mobile phone number:

Please fill in your telephone number

*

E-mail:

*

Country:
Address:

*

Inquire intention description: