Product category
Fabric Egg Chair
Hotline: 0086-13510133516
Fax: +86-13510133516
Description:The Egg Chair(Fabric)designed by Arne Jacobsen in 1958 for Radisson SAS hotel in Copenhagen. It is manufactured by Republic of Fritz Hansen; Our Fabric Egg Chair is made (as the original) using a strong fiberglass inner shell which is padded and covered in a high quality fabric;Fiberglass molded to make sure nice curving,and our Fabric Egg Chair true to the original, this quality reproductions is better than others.This fabric Egg Chair will perfectly fit your home or oth
Fabric Egg Chair
Product Parameters:
---
| | |
| --- | --- |
| Item: CF026 | Dimensions(cm): 88(L)*76(W)*109(H) |
| Designer: Arne Jacobsen | Colors available: Red,Light Grey,Dark Grey,Orange,Blue,Black,White |
| Lead time: 15~25 days | Order Now: chinayadea@chinayadea.com |
Product Description:
---
1. The Egg Chair(Fabric)designed by Arne Jacobsen in 1958 for Radisson SAS hotel in Copenhagen. It is manufactured by Republic of Fritz Hansen;
2. Our Fabric Egg Chair is made (as the original) using a strong fiberglass inner shell which is padded and covered in a high quality fabric;
3. Covering sewing by hand;
4. Fiberglass molded to make sure nice curving;
5. Swivel base in polished stainless steel;
6. With tilting function;
7. Ottoman for optional;
8. The entire chair and ottoman is Hand Sewn/Stitched;
9. High quality aluminum base in chip and flake resistant Satin Finish;
10. Chair features both Tension tilt and 360 degree swivel function;
11. Constructed around a synthetic "dimension true" curvature shell;
12. Smooth Contour cold pressed foam body wrap provides meticulous contour for this design;
13. More than 50 years after its design, the Egg Chair is still used in advertising, film and television as a symbol of sophisticated urbanism. Made in Denmark;
14. Fabric Egg Chair was designed in 1956 is perhaps the single-most recognizable icon of 20th century interior design. Our Fabric Egg Chair true to the original, this quality reproductions is better than others.This fabric Egg Chair will perfectly fit your home or others place.
Reference Pictures:
---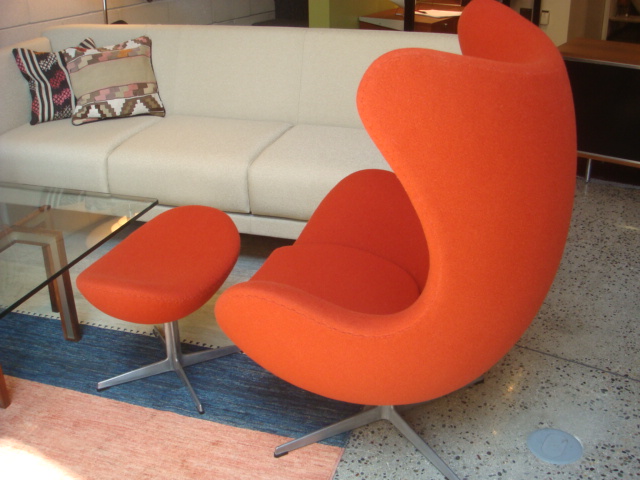 Product Pictures:
---
Designer:
---
Arne Jacobsen(1902-1971) bought a plywood chair designed by Charles Eames and installed it in his own studio, where it inspired one of the most commercially successful chair models in design history. The three-legged Ant chair (1951) sold in millions and is considered a classic today. It consists of two simple elements: tubular steel legs and a springy seat and back formed out of a continuous piece of plywood in a range of vivid colors. Jacobsen began training as a mason before studying at the Royal Danish Academy of Arts, Copenhagen where he won a silver medal for a chair that was then exhibited at the 1925 Exposition Internationale des Art Decoratifs in Paris. Influenced by Le Corbusier, Gunnar Asplund and Ludwig Mies van der Rohe, Jacobsen embraced a functionalist approach from the outset. He was among the first to introduce modernist ideas to Denmark and create industrial furniture that built upon on its craft-based design heritage. First among Jacobsen's important architectural commissions was the Bellav ista housing project, Copenhagen (1930-1934). Best known and most fully integrated works, are the SAS Air Terminal and the Royal Hotel Copenhagen for which Jacobsen designed every detail from sculptural furnishings such as his elegant Swan and Egg chairs (1957-1958) to textiles, lighting, ashtrays and cutlery. During the 1960's, Jacobsen's most important work was a unified architectural and interior design scheme for St. Catherine's College, Oxford, which, like his earlier work for the Royal Hotel, involved the design of site-specific furniture. Jacobsen's work remains appealing and fresh today, combining free-form sculptural shapes with the traditional attributes of Scandinavian design, material and structural integrity.
*

Indicated required field
Inquire: Fabric Egg Chair
*

First Name:

Please fill in your First Name

*

Last Name:

Please fill in your Last Name

Company name:

Please fill in your company name

Telephone number:
Mobile phone number:

Please fill in your telephone number

*

E-mail:

*

Country:
Address:

*

Inquire intention description: