Product category
Florence Knoll Sofa in Cashmere Wool
Hotline: 0086-13510133516
Fax: +86-0755-82041709
Description:This Florence Knoll Sofa In Cashmere Wool was inspired by the Lounge Collection created by US designer Florence Knoll (1917-present) to have a spare, angular profile that reflects the objective perfectionism of modern design;Our high quality reproduction Florence Knoll Sofa In Cashmere Wool is manufactured to almost the exact same specification as the original;Caramel wool or leather upholstery available in your color choice;The legs and frame are made of stainless steel squa
Florence Knoll Sofa In Cashmere Wool
Product Parameters:
| | |
| --- | --- |
| Item: CF029 | Dimensions(cm): 78(L)*76(W)*78(H) |
| Designer: Florence Knoll | Colors available: Dark Grey, Red, Cadet Grey, Oatmeal |
| Lead time: 15~25 days | Order Now: chinayadea@chinayadea.com |
Product Description:
---
• This Florence Knoll Sofa In Cashmere Wool was inspired by the Lounge Collection created by US designer Florence Knoll (1917-present) to have a spare, angular profile that reflects the objective perfectionism of modern design.
• Also provide armchair, two seat sofa, and three seat sofa.
• This high quality reproduction is manufactured to almost the exact same specification as the original.
• Caramel wool upholstery.
• Caramel wool or leather upholstery available in your color choice
• High Polished full length external stainless steel base frame.
• The legs and frame are made of stainless steel square tubing polished to a mirror finish.
• Reinforced bottom seat cushion platform for firm long lasting comfort
• Multi density foam seat and back cushions wrapped in silk layer provide comfort and cushion structure memory.
• Inner frame is solid wood.
• This is a very heavy sofa, springs are still excellent, foam is great and comfortable.
• The Florence Sofa can be customized to perfectly complement your home.
• Our prices are the competitive in the industry and our quality is one of the best.
Reference Pictures:
---
Product Pictures:
---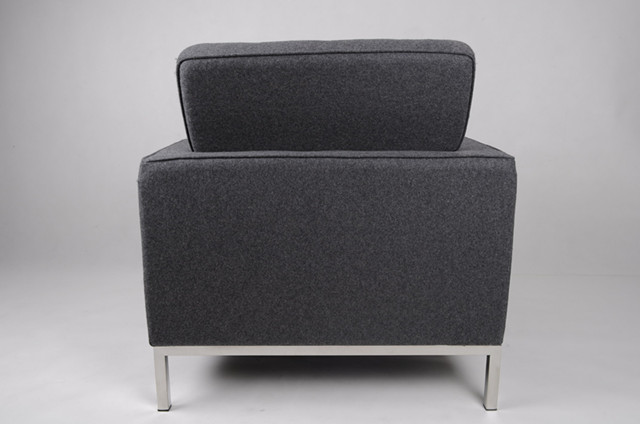 Designer:
---
Florence Knoll is an American architect and furniture designer. Florence Knoll's design flair began at the age of 14 when she designed her first home. A minimalist to the core, she pioneered the concept of open plan living and working spaces. The question Knoll asked prior to the design phase of the Classic Knoll Sofa & Chair: How can a piece of furniture support luxurious upholstery, yet take up as little space as possible? Her American interpretation of minimalist, rationalist design theories is clearly evident in her pieces. In her early years, Knoll studied under Mies van der Rohe. Some say a quick glance at the Knoll Sofa and Chair reveals the influence of Mies van der Rohe via his iconic Barcelona Lounge Chair. It is true that both the Knoll sofa and chair share a similar square button impressed cushion design.
Florence Knoll Sofa was designed by Florence Knoll,Considered a seminal leader of 20th-century design, Florence Knoll grew up among designers. In partnership with her husband, Hans, she championed the Bauhaus approach to furniture design at Knoll: to offer objects that reflect design, technological innovation and mass production.
While a student at the Kingswood School on the campus of the Cranbrook Academy of Art in Bloomfield Hills, Michigan, Florence Knoll Bassett (née Schust) became a protegée of Eero Saarinen. She studied architecture at Cranbrook, the Architectural Association in London and the Armour Institute (Illinois Institute of Technology in Chicago). She worked briefly for Walter Gropius, Marcel Breuer and Wallace K. Harrison. In 1946, she became a full business and design partner and married Hans Knoll, after which they formed Knoll Associates. She was at once a champion of world-class architects and designers and an exceptional architect in her own right. As a pioneer of the Knoll Planning Unit, she revolutionized interior space planning. Her belief in "total design" – embracing architecture, manufacturing, interior design, textiles, graphics, advertising and presentation – and her application of design principles in solving space problems were radical departures from the standard practice in the 1950s, but were quickly adopted and remain widely used today. For her extraordinary contributions to architecture and design, Florence Knoll was accorded the National Endowment for the Arts' prestigious 2002 National Medal of Arts.
*

Indicated required field
Inquire: Florence Knoll Sofa in Cashmere Wool
*

First Name:

Please fill in your First Name

*

Last Name:

Please fill in your Last Name

Company name:

Please fill in your company name

Telephone number:
Mobile phone number:

Please fill in your telephone number

*

E-mail:

*

Country:
Address:

*

Inquire intention description: