Product category
Le Corbusier LC2 Sofa 3 Seater - Light Brown LeatherCF009
Hotline: 0086-13510313799
Fax: +86-0755-82041709
Description:This Le Corbusier LC2 Sofa - Light Brown Leather has stood the test of time, and was originally created by Swiss Architect Le Corbusier for an historical fine art exposition in 1929; Our reproduction Le Corbusier - Light Brown Leather are completed in 100% genuine Top Grain Aniline Italian leather; The frame and legs are constructed in high grade 304 stainless steel; High density foam to ensure long term firmness and comfort; Le Corbusier LC2 Sofa - Light Brown Leather - a ti
Le Corbusier LC2 Sofa - Light Brown Leather CF009
Product Parameters:
Item: CF009
Dimensions(cm):

90(W)*74(D)*107(H)

Designer: Le Corbusier
Colors available: Light &

Dark Brown, Red, White, Black, Beige, Cream

Lead time: 15~25 days

Inquiry Now:

yadeaweb@gmail.com
Product Description:
---
1. This Le Corbusier LC2 Sofa - Light Brown Leather has stood the test of time, and was originally created by Swiss Architect Le Corbusier for an historical fine art exposition in 1929. With its clean lines, simple design and quality this Le Corbusier LC2 Sofa - Light Brown Leather can still be found in museums worldwide as well as buildings of major architectural significance.
2. This high quality reproduction Le Corbusier LC2 Sofa - Light Brown Leather is manufactured to almost the exact same specification as the original.
3. Our reproduction Le Corbusier - Light Brown Leather are completed in 100% genuine Top Grain Aniline Italian leather.
4. The frame and legs are constructed in high grade 304 stainless steel.
5. High density foam to ensure long term firmness and comfort.
6. Reinforced lower spring tension nylon system supports seat cushions for firm, long-lasting comfort.
7. Armchair sofa and 2 seat versions available.
8. Le Corbusier LC2 Sofa - Light Brown Leather - a timeless design for home or office.
• Fast delivery.
• Warranty / Guarantee: warranty for 2 years from the date of purchase.
• Good Customer Service.
Yadea's focus on quality does not end at the factory door - they believe that providing clients with exceptional service is just as important as manufacturing furniture. In order to make certain Yadea clients enjoy consistently high quality in all Yadea products, they have set up their own test center which monitors products against criteria that are far more stringent than the statutory standards.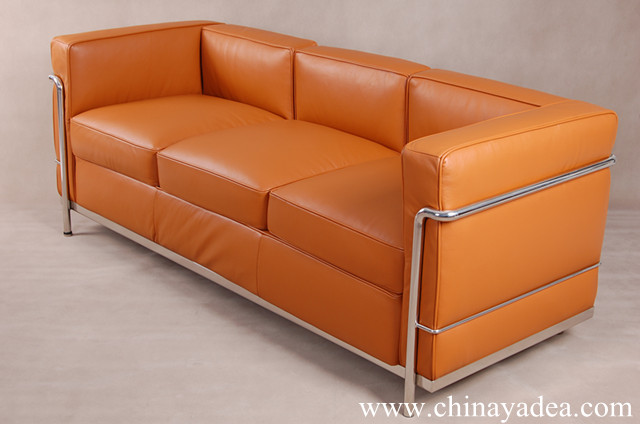 Reference Scene Pictures:
---
Designer:
---
Le Corbusier - modern architecture
Le Corbusier (October 6, 1887 – August 27, 1965), was an architect, designer, urbanist, and writer, famous for being one of the pioneers of what is now called modern architecture. He was born in Switzerland and became a French citizen in 1930. His career spanned five decades, with his buildings constructed throughout Europe, India and America.
He was a pioneer in studies of modern high design and was dedicated to providing better living conditions for the residents of crowded cities.
Le Corbusier adopted his pseudonym in the 1920s, allegedly deriving it in part from the name of a distant ancestor, "Lecorbésier."
He was awarded the Frank P. Brown Medal and AIA Gold Medal in 1961.
*

Indicated required field
Inquire: Le Corbusier LC2 Sofa 3 Seater - Light Brown LeatherCF009
*

First Name:

Please fill in your First Name

*

Last Name:

Please fill in your Last Name

Company name:

Please fill in your company name

Telephone number:
Mobile phone number:

Please fill in your telephone number

*

E-mail:

*

Country:
Address:

*

Inquire intention description: