Mart Stam S33 Chair KC007
Hotline: 0086-13510313799
Tel:0086-755-82875007
Description:Designed in 1926, the Mart Stam S33 chair is a unique design made of a polished stainless tubular steel frame,Seat and back in Aniline or Italian leather.
Mart Stam S33 Chair KC007
Product Parameters:
Item: KC007
Dimensions(cm): 50.5(W)*64(D)*84(H)
Designer: Mart Stam
Colors available: Black, White
Lead time: 15~25 days

Inquiry Now:

yadeaweb@gmail.com
Product Description:

---
1. Designed in 1926, the Mart Stam S33 chair is a unique design made of a polished stainless tubular steel frame. S33 chair were used for the first time in 1927 in the Weissenhof-Siedlung in Stuttgart.
2. Our S33 chair are reproduced to the style of the original design, Seat and back in full top grain Aniline or Italian leather.
3. S33 chair is a chair without any back legs that relied instead on the strength of a single twisting piece of piping to support and counterbalance the weight of a seated person.
• Fast delivery.
• Warranty / Guarantee: warranty for 2 years from the date of purchase.
• Good Customer Service.
Yadea's focus on quality does not end at the factory door - they believe that providing clients with exceptional service is just as important as manufacturing furniture. In order to make certain Yadea clients enjoy consistently high quality in all Yadea products, they have set up their own test center which monitors products against criteria that are far more stringent than the statutory standards.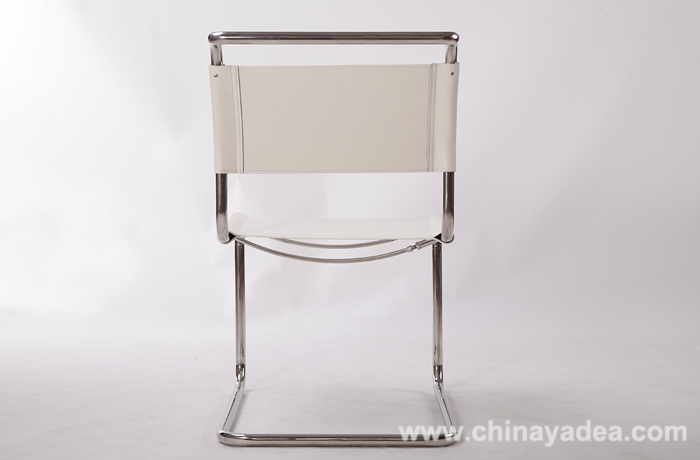 Reference scene pictures:
---
Designer:
---
World-renowned Dutch architect, urban planner and designer Mart Stam was born in 1899. Extraordinarily well-connected, he is widely credited with huge contributions to 20th Century European design and architecture. His style has been categorized as 'New Objectivity', formed during the 1920's economic depression and as a branch of the Expressionist movement. With many large-scale and high-profile architectural commissions to his name, Stam naturally dipped into industrial design throughout his long career.
In 1923, he designed the S33 Chair. The chair - fashioned from stainless steel and two simple pieces of leather to create a seat - marked the beginning of a modernist movement, gradually evolving away from the solid wood pieces that typified early 20th Century design. Indeed, it could even be said that Stam set the groundwork for the many Scandinavian designers that would follow in his footsteps.
*

Indicated required field
Inquire: Mart Stam S33 Chair KC007
*

First Name:

Please fill in your First Name

*

Last Name:

Please fill in your Last Name

Company name:

Please fill in your company name

Telephone number:
Mobile phone number:

Please fill in your telephone number

*

E-mail:

*

Country:
Address:

*

Inquire intention description: