Wegner Wishbone Chair/CH 24 Chair/Y Chair CF825
Hotline: 0086-13510313799
Tel:0086-755-82875007
Description:The Wegner CH24 Wishbone Chair or "Y-chair" as it is sometimes called due to the shape of its back, was designed in 1949 and was the first of Wegner's chairs for Carl Hansen & Son.Our Wegner Wishbone Chair is a high quality reproduction in the style of the original design. The Wegner CH24 Wishbone Chair frame available in Ash, Maple, Beech, Oak, Cherry or Walnut. With either white or black paper cord. Birch frame with woven rattan seat. The Wegner Wishbone Chair can be used a
Wegner Wishbone Chair/ CH 24 Chair / Y Chair CF825
Product Parameters:
Item: CF825
Dimensions(cm):

90(W)*74(D)*107(H)

Designer: Hans J. Wegner

Colors available:

Natural, Black, Lacquered

Lead time: 15~25 days

Inquiry Now:

yadeaweb@gmail.com
Product Description:
---
1. The Wegner Wishbone Chair or "Y-chair" as it is sometimes called due to the shape of its back, was designed in 1949 and was the first of Wegner's chairs for Carl Hansen & Son. It is a classic piece of Danish mid-century furniture design.
2. Our Wegner Wishbone Chair is a high quality reproduction in the style of the original design.
3. Frame available in Ash, Maple, Beech, Oak, Cherry or Walnut. With either white or black paper cord.
4. Also available with Lacquered frame.
5. Birch frame with woven rattan seat.
6. Top quality solid wood frame in your choice of finish.
7. The curved hind legs and the semicircular top rail together with the elegant Y-back endows the chair with a gracious and welcoming air.
8. The Wegner Wishbone chair sits well and its spaciousness allows its user to change position. The back offers good support and most people will feel comfortable in it for a longer period of time.
9. The Wegner Wishbone Chair can be used as a chair for meals,office chair or side chair in a salon.And these replica chairs are also generally used in a contemporary home as timber dining chairs.
10. This replica is true to the original design specifications. We use an independent quality control auditor to supervise the entire production process;ensuring every product is of the highest quality and has absolutely no imperfections.
• Fast delivery.
• Warranty / Guarantee: warranty for 2 years from the date of purchase.
• Good Customer Service.
Yadea's focus on quality does not end at the factory door - they believe that providing clients with exceptional service is just as important as manufacturing furniture. In order to make certain Yadea clients enjoy consistently high quality in all Yadea products, they have set up their own test center which monitors products against criteria that are far more stringent than the statutory standards.
Our Product Real Photos:
---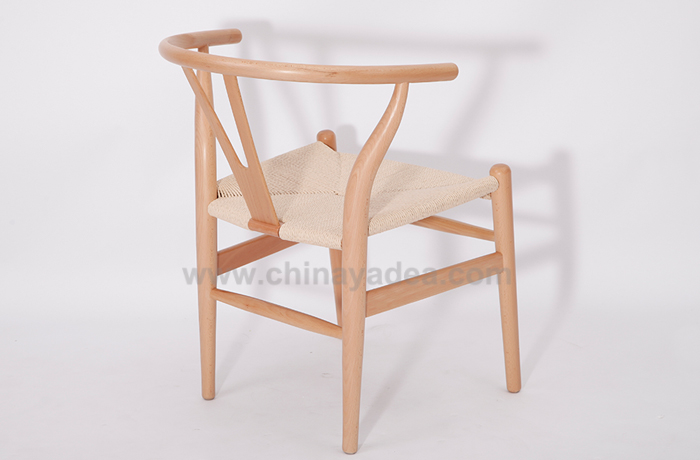 Reference Scene Pictures:
---
Designer:
---
Hans Jørgensen Wegner, (April 2, 1914 - January 26, 2007), was a world renowned Danish furniture designer. His high quality and thoughtful work, along with a concerted effort from several of his manufacturers, contributed to the international popularity of mid-century Danish design. His style is often described as Organic Functionality, a modernist school with emphasis on functionality. This school of thought arose primarily in Scandinavian countries with contributions by Poul Henningsen, Alvar Aalto, and Arne Jacobsen.In his lifetime he designed over 500 different chairs, over 100 of which were put into mass production and many of which have become recognizable design icons.
Wegner's designs were manufactured by several manufacturers, including Getama, AP Stolen, Johannes Hansen, Andreas Tuck, Ry Mobler, Fredericia Stolefabrik, Carl Hansen & Sons, Fritz Hansen, PP Mobler and Erik Jorgensen.
Many of Wegner's wooden chairs are characterized by traditional joinery techniques including mortise and tenons, finger joints, and sculpted elements such as armrests and seat supports. Wegner also utilized traditional construction for upholstered pieces, and often mixed materials such as solid wood, plywood, metal, upholstery, caning, and papercord.
J16 Rocking Chair, 1944
Chinese Chair (no.1), 1944. The China Chair series was inspired by a portrait of Danish merchants sitting in traditional Ming chairs.The first, produced by Fritz Hansen, is the closest to its source material: the back splat is sculpted into the arm rail, which terminates in a decorative curved finial.
The Peacock Chair (1947)
Peacock Chair, 1947. The Peacock chair was inspired by a traditional Windsor chair. Wegner exaggerated the arched back, creating a high backed, yet airy chair. The back spindles are flattened in the approximate area of a person's shoulder blades, the visual result of which evokes a birds tail plumage.
Wishbone Chair, 1949. The Wishbone chair was the first collaboration between Wegner and maker Carl Hansen, who has produced it since 1950. In 1944 Wegner began a series of chairs inspired by a portrait of Danish merchants sitting in traditional Ming chairs. The Wishbone chair is the last and most distinct of the series. The inspiration is clearly visible, but the chair is an original form. The back legs are steam-bent into a curve that tapers to join a circular steam-bent back rail. The joinery was difficult but resulted in a strong, lightweight chair.
Flag Halyard Chair, 1950. While Wegner often drew from historical forms he also created forms without precedent. The Flag Halyard was inspired by a trip to the beach, during which Wegner carved out the form in the sand. The metal, rope, and sheepskin chair is an unusual, but not unprecedented, break from Wegners prolific use of wood.
Valet chair,1953. This chair has elements for hanging up or storing each piece of a man's suit. The backrest is carved to be used as a coat hanger, pants can be hung on a rail at the edge of the seat and everything else can be stowed in a storage space underneath the seat.
Ox Chair,1960. which came with or without horns, showed the less serious side of Wegner's designs. "We must take care," he once said, "that everything doesn't get so dreadfully serious. We must play--but we must play seriously." The Ox was Wegner's favorite chair and occupied a space in his livingroom until he died.
Shell Chair, 1963. In 1938 Wegner had entered the Organic Home Furnishings competition at the Museum of Modern Art in NYC.
*

Indicated required field
Inquire: Wegner Wishbone Chair/CH 24 Chair/Y Chair CF825
*

First Name:

Please fill in your First Name

*

Last Name:

Please fill in your Last Name

Company name:

Please fill in your company name

Telephone number:
Mobile phone number:

Please fill in your telephone number

*

E-mail:

*

Country:
Address:

*

Inquire intention description: